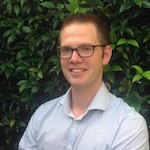 Continuing with our series of meet the staff, this weeks spotlight is on the centre's chiropractor Dr. Rogan Smith.
Rogan has been with us at the centre since the beginning of the year. He has in this time become a very popular member of the staff with a steady following of old and new clients.
Rogan is a keen cyclist and golfer who was practicing chiropractic in Sydney for several years. He now has returned home to Melbourne.
After suffering a shoulder injury at a young age, Rogan was referred to a local chiropractor and he has never looked back.
Rogan is looking forward to meeting everyone, and helping the local community with injuries, pain management or to manage a specific goal to improve your overall wellbeing and quality of life.
Rogan holds clinic at the centre on Tuesdays and Thursday afternoons from 2.00pm to 7.00pm.
To book an appointment with Rogan please call 03 9763 0033 or book online