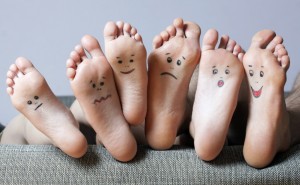 Have you heard of Reflexology?
Did you know that one human foot contains seven thousand nerve endings, twenty six bones, one hundred and seven ligaments and nineteen muscles? I find that amazing! That makes the foot truly vital. This is where reflexology comes in. Also known as zone therapy, reflexology has been known to heal and relax many people bringing the body into balance and a sense of wellness. Many people in Western society either have never heard of reflexology or are not quite sure what it is. Those who have used this practice love it or have friends that are skeptical about it. Skepticism however usually comes from having a closed mind or not actually knowing enough about the item in question in the first place. What one can be skeptical of is any reflexologist who has no formal or recognized accreditation.
That is why in this article I want to introduce you to and explain to you this amazing ancient healing practice that is a noninvasive and pleasant way to treat almost any health condition. On top of that, I would like to also explain to you how reflexology can actually prevent many health conditions from precipitating in the first place. Reflexology is the practice of working on the pressure points on the hands, feet or even ears. It is sort of like a foot or hand massage, most often however performed on the feet. The big difference is that when the pressure points are activated there may be slight to moderate pain involved if there is a weakness or problem in that area. It is just now that we are in a new era of consciousness, and thus understanding the true potential of the human mind and how energy plays a role in all that, including health and disease.
Reflexology is a well respected and governed body. All reflexologists must be formally trained and certified.
The success of this healing really depends on how open the patient is to receiving it and the quality of the reflexologist performing it.
Shirley Annells is a qualified Diploma level Reflexologist practicing at the Centre of Wellbeing.
www.exampleessays.cInfo – Evolving Wellness   Holistic, Natural, and Green Approach to Optimal Wellness