Why do we teach crossing midline exercises as part of our baby massage course?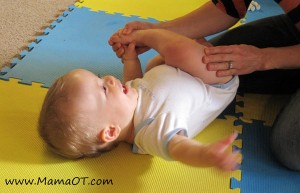 Teaching the two halves of the brain to work together to complete complex movements like crawling has tremendous benefits in brain development, cognitive development, physical development and the maturation of the nervous system.
While the benefits of these activities start as newborn babies, your child will continue to reap the rewards throughout their growth and development.
As babies, they will begin to identify the parameters of their own body which will progress to crawling. A study of school aged children with reading difficulties showed that all of the children studied had not crawled in the traditional way as babies. Crawling and crossing midline activities became part of their therapy.
As with all techniques taught in our baby massage classes, crossing midline is an activity that begins in infancy and is adapted as the child grows and the benefits develop with your child.
If you and some friends would like a specialist Infant Massage Therapist to run classes for your group contact Centre of Wellbeing 9763 0033 to arrange a time.